This week, we talked about influence and engagement. Some highlights:
High vs low-level engagement
Good for you vs good for the company
Love and hate for "suggested tweets"
Love and hate for Klout
And a rather wonderful quote that hits it home:
"The more John Troyer I am, the more successful I've been"
And as John requested, an example of a Social Media Activation Kit is coming up next! In the meantime, here's a picture of my adorable but pathetic looking kitten post surgery.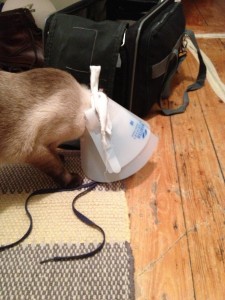 Podcast: Play in new window | Download
Subscribe: RSS