Alternative title: Goodbye, For Now!
Welcome back to the final episode of The Geek Whisperers! It took us a little longer than normal to publish this one because, as you know, this is our last episode for the foreseeable future. We've been doing this podcast for five years and feel it's time to bring the show to a close. We share the reasons why the show is ending, and invite you to go back to the very beginning, from Episode 1, and relive the best moments with us! It's been an amazing journey and we have had so many special times together talking to people successful in so many different ways. Thank you all for listening and inspiring us. We look forward to still connecting with you, our collective community, through different projects.
Main Points:
This episode was taped live at

VMworld

The first set of episodes focused on the job duties we were all grappling with at the time. At the time we didn't know much about influence marketing, and we can thank Amy for defining the term.

Amy describes influence marketing as people, platforms, and content.

Some of our favorite episodes were where the guests shared stumbles throughout their career and what they learned, differing opinions on evangelism, the rise of bloggers, and how good things happen when you add structure.

Over the course of the podcast, we got to talk with our mentors and learned so much about being brave, getting unstuck, and having a mindset of success. Check out around [19:45] to hear specific episodes that stuck out to us.

What we learned from our podcasting journey

Three hosts on one podcast are too many!

Edit less and publish more.

Don't walk away from opportunities because it's hard or you think you're not good enough.

Angelo Luciani and Nick Korte share their The Geek Whisperers feedback as we bring the show to a close.
Quotes and Tweetables:
"I was trying to learn and struggle through some things and this was therapeutic."

"People, platform, and content. Put them all together and magic happens."
And remember: we're not going anywhere! John, Amy and Matt are working hard out in the community. You can find us on Twitter, participating in the IMC or at events (all three of us are available for speaking opportunities).
And one more thing…
For contrast with the cover photo, here's what we looked like recording together for the first time back in 2013.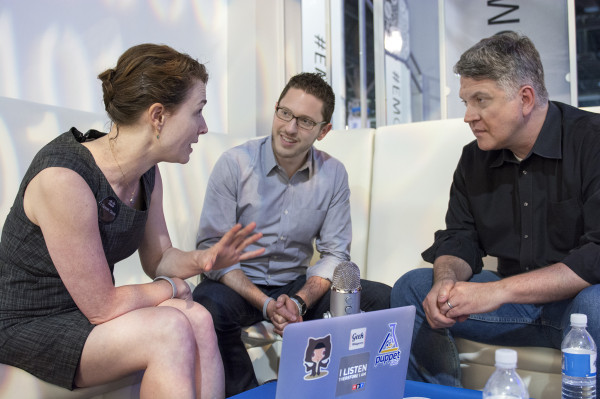 Podcast: Play in new window | Download
Subscribe: RSS