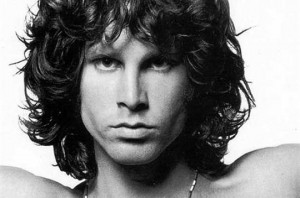 So you're a technical evangelist. Where does your career go from here? This week we talk with Brian Gracely about career paths, working remotely from the corporate headquarters, and surfing the waves of change within the tech industry.
Brian makes the point that a technical evangelist (rockstar?) is at some level a field overlay position with a goal of spreading a new idea out to the world. Eventually this new idea is no longer new and the overlay position isn't needed. That's when you have to reinvent your job role.
The blog post that started us off: Fear and Loathing in Cloudvegas
Brian was previously on the podcast with his Cloudcast.net partner-in-crime, Aaron Delp, in Episode 13, How to Create a Successful Podcast with @thecloudcastnet
Chad's Army aka the vSpecialists were an overlay group at EMC that helped evangelize VMware solutions with the EMC field. They've since been reorganized to spread their knowledge throughout the EMC technical specialist organization. Here's a 2010 post from Chad Sakac that gives you a flavor of the vSpecialists in their heyday. Many of the folks listed in this post remain strong members of the cross-vendor IT community that the Geek Whisperers play in.
In times of great change, the Unicorn skill set is needed.
Does a CTO just make PowerPoint presentations?
Tying your career to be a part of a corporate function or program.
Making the trade-off: location, amount of travel, and money
Asking your boss: does location matter?
Amy lays out her strategies for working remotely
People who want a lot of money, a big title, and no travel
The people who are successful have figured out what is important to them and what they are willing to give up
You can't rest on your laurels – you have to keep proving that you are valuable in this privileged position
You often have to give up your old identity: Reinvention can be  a necessary career step
Working on a side hustle: "You're got to do something for free, as a hobby, because you like it, or you want to learn something new"
Getting caught in a time of transition: working for Blackberry or Nokia
Parents don't understand current career paths
The special dilemma of the technologist: going deep for now but staying relevant over time
"Nothing is wasted on the writer" …or the unicorn. You don't have to flame out.
Dislike of the term rockstar as diva
John idolizes Peter Coffee, although he has never met him
Realize that you don't become the superstar VP overnight. Most people that are successful have had interesting twists and turns in their careers.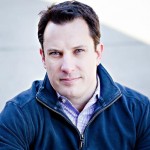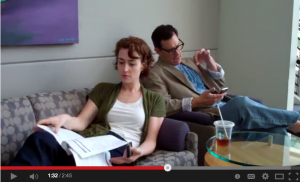 I'm not sure if the rest of the Geek Whisperers realize this, but when it's my turn to write up an episode, I try to find the most embarrassing picture of our guest that I can find, at least in relation to how well I know them. Since Brian is a friend of ours and of the podcast, here's Brian starring in a YouTube video with our own Amy Lewis as the psychiatrist "Dr. Tweeter". Link to the video redacted to protect the innocent.
Podcast: Play in new window | Download
Subscribe: RSS