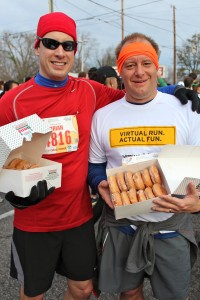 This week the podcast is all about podcasting as we have The Cloudcast's Brian Gracely and Aaron Delp join the Geek Whisperers to tell us how, after 90-odd episodes covering cloud and everything-as-a-service, they've created a well-oiled podcast production machine. Along they way, they've gotten recognized at conferences, had a fan club that lasted at least three weeks, and made zero dollars. And they're happy with that.
Ironically, although "don't edit the audio" was one of the top tips from Aaron and Brian, we chattered on way too long this week and this was one of our most highly-edited episodes yet.  We cut it down to 47 minutes, but we hope you stick through it all!
A few podcasts we mentioned in this episode:
Great documents from the Cloudcast team that add insight into their process.
And finally Aaron's Social Media Hierarchy. I'm not sure if this is a hierarchy of effort, reward, or the number of people doing it, but I think I agree at least with the effort part: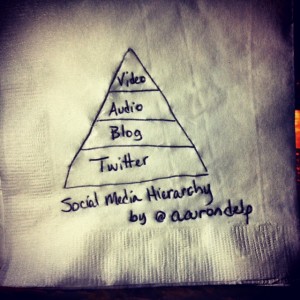 See you next week!
Podcast: Play in new window | Download
Subscribe: RSS