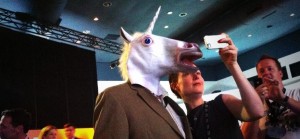 Employee ambassadors are an important part of a social media strategy. The right kind of employee evangelist is like a Unicorn: very hard to find. Unicorns can also be disruptive to an org chart when their social media footprint starts to overlap with their day job. This week on the Geek Whisperers we discuss Unicorn Husbandry.
What are Unicorns? What is a Unicorn Moment?
Why do Unicorns strain an org chart? Can prophets ever be famous in their home towns?
Why are companies like Ford factories? Can you have more than one role in an organization?
Are Unicorns born or raised? Can you train them or must you sniff them out like truffles?
If you think you are a Unicorn, what steps should you take to embrace your Unicorn-ness?
A few of the links we talked about:
Podcast: Play in new window | Download
Subscribe: RSS